DENVER – Every Friday during the school year, more than 100 volunteers gather under the Colfax viaduct to fill bags of food, which are delivered to students at more than 70 schools each week to make certain students and their families have food to eat over the weekend. It's something Food For Thought has been doing now for a decade. "We have...
DENVER (KDVR) — After learning about childhood hunger and the food needs of children in the Denver area, an Arvada man decided to do something about it. He founded a nonprofit that provides food for children to eat on the weekends. It was dark, it was cold and they gathered under the Colfax Avenue viaduct. They have a job to do. Sorting,...
DENVER — Every Friday during the school year, Bob Bell gets up before the sun comes up -- to keep a promise. "We haven't missed a Friday whether it's the pandemic or beyond," Bell said. "We just haven't missed a single Friday because that's what we owe to those kids." Bell is the founder of Food for Thought Denver. Every Friday, he brings more...
Thank you, Colorado and Company on 9NEWS and Dani Fried for putting together this beautiful story!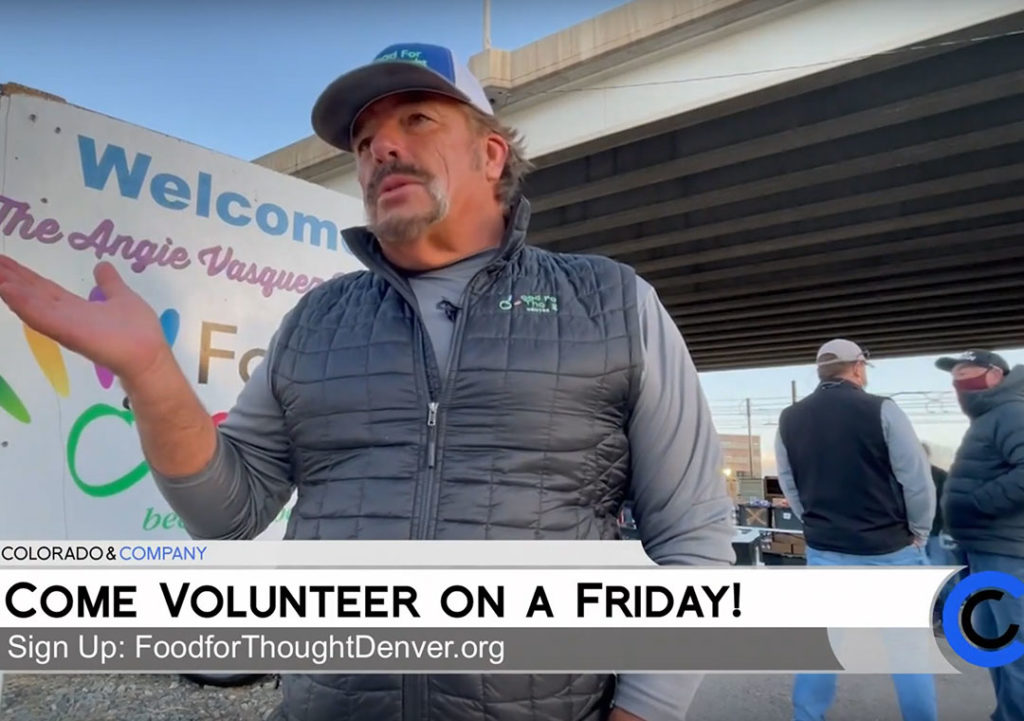 Volunteers from Food For Thought began their work day Friday before the sun did. At 5:30 a.m. in 22-degree weather, a handful of men and women gathered under a downtown viaduct to unpack boxes of peanut butter, soup, crackers and other non-perishable food items. The goal was to prepare 3,500 bags of food to be delivered to 12 locations around...
Food For Thought lacks a lot of things, including salaries, fancy offices, a marketing team and workers with huge egos. But its members are full of determination, heart and can-do attitude. The low-key nonprofit, working from its "headquarters" under the Colfax viaduct near Interstate 25, provides weekend meals for thousands of Denver's...
Food For Thought featured on CBS Denver.