Sponsorship Tiers & Packages
Gold
Your company honored before all volunteers in a check

*

presentation during Friday food packing

(*if sponsor wishes to have a giant check made, please bring it with you to food packing)

Photo opp with your team and Bob Bell at food packing

Your photo and short write-up across all FFT social media channels

$10K Sponsorship level "badge" to put on your website

Your logo in the $10K tier on FFT website

HERO spotlight of your company (logo + 2 photos, paragraph, badge and link) featured front-and-center on the home page of the FFT website for 4 weeks.

EMAIL spotlight of your company sent out in a mass email to ALL our master list (That's around 10,000 people!)

Discounted Rock-A-Belly sponsorship plus 5 tickets to the event (June 10th)
Silver
Your company honored before all volunteers in a check

*

presentation during Friday food packing

(*if sponsor wishes to have a giant check made, please bring it with you to food packing)

Photo opp with your team and Bob Bell at food packing

Your photo and short write-up across all FFT social media channels

$5K Sponsorship level "badge" to put on your website

Your logo in the $5K tier on FFT website

Your company (logo + 2 photos, paragraph, badge and link) featured on a dedicated page on the FFT website

Discounted Rock-A-Belly (June 10th) sponsorship
Bronze
Your company honored before all volunteers in a check

*

presentation during Friday food packing

(*if sponsor wishes to have a giant check made, please bring it with you to food packing)

Photo opp with your team and Bob Bell at food packing

Your photo and short write-up across all FFT social media channels

$2,500 Sponsorship level "badge" to put on your website

Your logo in the $2,500 tier area on FFT website

Discounted Rock-A-Belly (June 10th) sponsorship
For donations over $10,000 Bob Bell will be reaching out to you to discuss a custom benefits package that would be meaningful to you.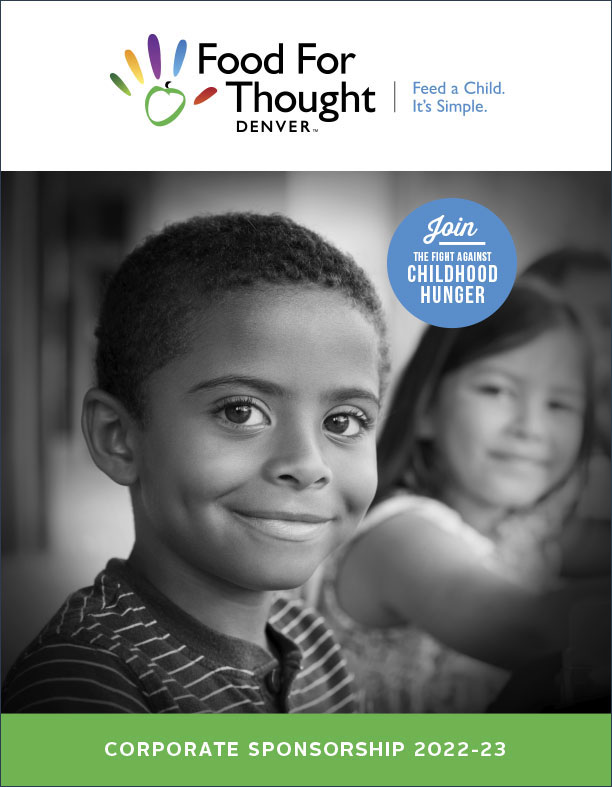 Download this PDF to learn more details about our corporate sponsorship packages and our mission at Food for Thought Denver. The last page offers a way to formally start the sponsorship process. We would love to have you on board!
We Want To Participate. Count Us In!