by Lucas Schultz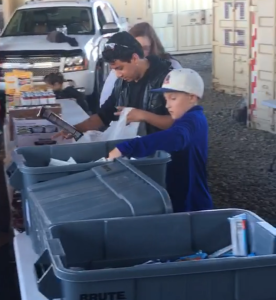 Hi, my name is Lucas Schultz. I'm 10 years old, and I go to 4th grade at Cherry Hills Village Elementary. I really like sports and love to help people when they need something.
On September 23, I went downtown to the Food For Thought Program, and it was a bunch of fun. I helped open and pack food for 2 hours. It's a lot funner than it sounds. This means a lot to me because even today just to take a second to think about all those kids that go knocking on their teacher's door after school on Friday and ask for just a bar or something to eat before they go home because they think it will make them better.
But it doesn't if they have to eat it for dinner that night and still go another 2 days without food. How are kids from 6-11 years old supposed to do that?
That is the reason I came down to help. It was knowing that I was about to help feed 9 schools of hungry children that needed to go home with this bag of food. I was really impressed with the people who came, and that is a really good thing because that means every time they stop and they're not doing something, they have something bigger in their head to think about. There is going to be that little soul in your head saying that in life when something bad happens you try to fix it so that you can actually accomplish the biggest things in your own head. Sometimes that means becoming a sports star or an artist. It may seem like nothing but a spec of dust, but it does mean something and you never know it could mean the biggest things to you and your friends. It really means everything to the kids out there that don't get anything and suffer. Just trust me it does.
I really want to encourage other people to go down and pack food. It is a great thing for not only you but the others, too.