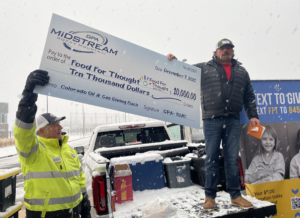 Each week, our fearless leader Bob Bell climbs onto his tailgate around 7:30am and tells the Food For Thought story to a captive audience. Some of his stories are pretty consistent from week to week ("so I was sitting on a barstool one day…"). Some of his stories get drowned out from the myriad of whistles that blare as trains roll by.
Each week Bobby reminds us that Food For Thought operates by "$5 at a time." Every five bucks feeds another kid and their family for another weekend. And the machine keeps on going.
And every so often, an organization or individual steps forward and makes a very special gift. Last week was one of those times. Keith Venable and Andrew Eswein from
GPA Midstream
 delivered a $10,000 check. Wow. That's a lot of bellies that will be filled just before end of the year festivities when this kind of financial support is needed most.
Keith, Andrew, and GPA Midstream have been supporting Food For Thought for over 4 years now, and they are known to bring a gaggle of GPA team members down under the bridge to help pack bags. Needless to say, they've become welcome pillars under the Colfax Bridge on Friday mornings. They love the camaraderie that is built and knowing they've made an impact.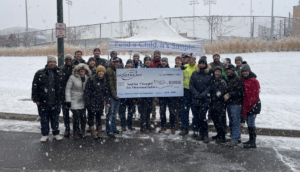 As the snow fell and Bob's speech wrapped up, Keith smiled and said, "Being part of the Oil and Gas industry, we love to give back to our community, and there's no better organization than Food For Thought to make a difference in Denver!" Hey, we're biased, but we agree.
Thanks Keith, Andrew, and the entire GPA team for all the support.