Meet Jack and Sophie
"Because they're all our kids" is the guiding principle Food for Thought has lived by since its inception, and it's one that has kept the organization laser focused on ensuring their mission is simple yet incredibly effective. Effective to the point, in fact, that they're now serving over 30 schools after only a handful of years! But with this growth comes the need for volunteers—and lots of them. At the primary packing site "under the bridge" at Metro State University, over 100 volunteers show up every Friday morning to guarantee that every single child at their schools goes home with food for the weekend. Each school with an on-site packing operation requires a minimum of 12-15 volunteers to run optimally.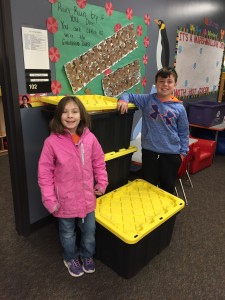 While these volunteers have often consisted of our many corporate
sponsors' employees, a new group of volunteers has been emerging early this year, and they are a force to be reckoned with! Who are these all-stars?
They're kids. They're the strong, positive, altruistic young leaders who hear from their parents that there are kids in their community who struggle with food insecurity, and they answer the call to help without thinking twice. We'll be highlighting this next generation of volunteers in a series of posts so you can get to know these amazing individuals!
First up are Jack and Sophie, neighbors whose parents grew up together and encouraged their kids to volunteer together, too. They're part of the volunteer team at one of the newest schools, Escalante-Biggs Academy, that serves children between the ages of 3-5 years. I sat down with them to find out what motivates them and why they love volunteering—and how they became so strong. These two powerhouses can shuttle bins stacked 3 high with food weighing over 100 pounds without breaking a sweat!
First of all, how did you guys get to be so strong?!
Sophie: "Karate!"
Jack: "Weightlifting!"
What made you decide to volunteer with FFT?
S: "Jack's parents told me about it and I felt like doing something nice for kids who don't have food."
J: "My dad kinda talked me into it. He said it would help kids who don't have food over the weekend. That made me feel bad and I wanted to help the kids." He admits that it's hard to wake up early in the morning to volunteer, but that he does it because he knows he's helping people.
How long have you been volunteering with FFT?
S: "Two weeks"
J: "I want to say 5 weeks at this location, but I've been volunteering at Elkhart and another place, too. This is my first year."
Do you think other kids should volunteer with FFT? Why? How about adults; should they volunteer?
S: "Yes. We went to Ameritown before winter break and it gave us a chance to have a job, and now we actually spend our mornings with this as a job!" Sophie explained that she feels like volunteering has helped get her ready to have a job in the future, and that it would help her peers this way, also.
J: "I think kids should help, because the more volunteers you have, the quicker it goes and the more kids you're able to feed!" Adults should help "because if there aren't enough adults, we can't wheel the dollies [to deliver the food] and it might be hard for other adults." (That is, unless you have strong kids like these two!)
What should other people know about FFT?
S: "It helps the kids not only in this school, but in 30 more schools!"
J: "I want people to know that it's not only helping you get stronger, but it's helping other kids have food. If you don't, today [Friday] would be the last meal that they have for the weekend."
What do you wish you could say or do for the kids at this school?
S: "Give them toys if they don't have any toys!"
J: "As they're leaving, I would hold the door open for them. We did that this morning!"
What do you love most about FFT?
S: "It helps other kids!" Jack agreed with Sophie on this point, making it unanimous!
Finally, what do you want to be when you grow up?
S: "A vet"
J: "A police officer. That's why I'm doing this: so I can build muscle and help others!"
As you can see, Jack and Sophie are not only hilarious, but incredibly thoughtful and altruistic. At the end of our time together I called them "trailblazers." They weren't familiar with that term, so I let them know it meant they are leaders: kids who are setting an example for everyone about how to treat others and do what's right. As you can see from their smiles, it's obvious they were pretty proud of that designation and the work they do for others.