Being in high school is challenging, at best. It's full of academic rigors, extracurriculars competing for your time and energy, constantly shifting friendships, and the pressures of applying to college and / or finding work! Now imagine having just arrived at a large high school in Denver from another country, not knowing a single soul, not knowing where you are, not having the layers of clothing our Colorado weather requires in a single day, and often not speaking English, or knowing where you'll get your next meal. This is the reality facing some students at South High School in Denver. 
Walking into South High, it's obvious from the multitude of languages being spoken in the hallways just how diverse this school is. Greg Thielen and Jaclyn Yelich are the dynamos who started Food for Thought's first high school food pantry at South in 2014. As Greg puts it, "You could find a more diverse group…but I'm not sure where!" An estimated 50 different countries are represented at South. And while it's a blessing to be part of such a melting pot, this also creates an incredible challenge for the volunteers working here, because it requires knowing the population well enough to meet their needs, and the need at South runs deep. The food pantry here (which, as you'll learn, is far more than a food pantry!) has taken Food for Thought's base model of providing non-perishable food for students over the weekend and lovingly grown it to accommodate the unique needs of these students. 
Working with a limited budget, Greg and Jaclyn manage to serve an average of 130 students every Thursday afternoon. But it's not just the high school students they're assisting; it's often their families, too. It was striking to learn just how large these families can be: the first student I met said he comes from a family of nine. That means that the foods selected from the pantry are feeding over 500 people every week! Watching these students "shop" is eye-opening. The most coveted item in the pantry isn't sugary cereal, snacks, or ramen (although these are in high demand, too!), but cooking oil. This is because these families cook together, using fresh foods. The South team has learned to purchase large quantities of seven types of dried beans, rice, tortillas, and dairy products, and to solicit donations from partner organization, We Don't Waste, to provide gorgeous fruits, vegetables, herbs, and other perishables to accommodate the needs of the students here. Over the years, they've also become experts in the other things the students need to survive living in Colorado, including shampoo, deodorant, toothbrushes, and warm hats, jackets, socks, and shoes. Jaclyn is masterful when it comes to stretching their donations, procuring entire pallets of shampoo and body wash for $35 or cases of toothpaste for under $1.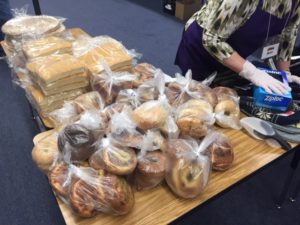 What's even more impressive about South's food pantry is how its evolution has come to mimic that of its students. As its founders, Greg and Jaclyn, have witnessed entire groups of students arrive and graduate. All along, the goal of the food pantry's 60 volunteers has been to greet students and make sure they feel safe, comfortable, and, most importantly, welcome. And because of this commitment, this team now knows a lot about the students they're serving, from their names and where they're from, to what sports and activities they're involved in, to how many siblings they have (and their names!), to where they're working on the weekend. They've watched these students go from knowing none of the language to speaking English fluently. They've witnessed students who were once reserved or intimidated become leaders. They've observed struggling students become those earning accolades and scholarships. They've become an integral part of making one of the most challenging environments—high school—an environment in which students can thrive and grow into themselves. This is especially valuable for their immigrant students, because by ensuring they have adequate food, they're also hoping to cement their place here, helping them assimilate into the community as quickly and easily as possible. And that's the beauty of the South High School food pantry: it may start with food, but it has evolved into so much more for these students because of the community it has built! 
If you'd like to support the South High School food pantry, please reach out to see how you can help by contacting Jaclyn at jyelich2@msn.com. Although they have a dedicated group of volunteers who assist them on Thursday afternoons, they love to have people come and observe their handiwork. Donations are always welcome, also, as they've become experts in getting the biggest bang for their buck and knowing what their students need from week to week. Want to know more? Check out the impact we're having on our community.